Feel Good Fitness WA
BEGINNERS ONLY

FITNESS
Mandurah's First BEGINNERS ONLY Fitness Studio
Find out how our BEGINNERS FITNESS members have improved their fitness and their health, both physically and mentally
Free Consultation
Book in NOW for a 30 minute life changing health & fitness consultation with head coach and manager Steve.
Get daily health & fitness tips and inspiration for beginners to fitness along with support from all our Feel Good Fitness members.
Book in NOW for a 30 minute life changing health & fitness consultation with head coach and manager Steve.
Feel Good Fitness WA
Welcome To
Fitness for 
Beginners
We are Mandurah's First Beginners ONLY Fitness Studio, with various programs available to help you transform your life in a safe and supportive space.
With years of experience we can guide you through that first hard step of starting to exercise, in an environment with NO intimidation, judgement or feelings of worthlessness.
Whether you want to lose body fat, improve mental health, meet new friends, or just feel stronger and more energetic, we have a program that will help get you where you want to go.
View our videos to see what our classes are like and what our members have to say, then get in touch to arrange a personal consultation!
FREE CONSULTATION
Book in NOW for a 30 minute life changing health & fitness consultation with head coach and manager Steve.
We will map out your health & fitness goals and create a manageable plan of action with specific timeframes to work towards your goals.
Getting the right support is the key to success!
Feel Good Fitness
Beginner Fitness Classes
Group Classes
Our Beginner Fitness group classes are friendly, supportive and fun.
Private Sessions
Our private beginner fitness sessions will target your specific needs.
Other Classes
Add some variety to spice up your routine with our beginners Boxercise classes. 
Customer Story
Success Stories
Feeling alone and depressed after leaving family and friends behind to move to WA, Cassie had no energy or motivation to do anything.
Now, after 14 months with Feel Good Fitness WA, Cassie says "I am feeling the best I have in over 15 years – 30 kg lighter and the smallest I have been since high school. My mind is a lot clearer, I'm stronger, I have so much more energy and now can feel proud about what I have achieved in myself."
In the photos we see Cassie in October 2017 after being with Feel Good Fitness for 3 months, and again in August 2018 having made great progress despite having to take 3 months away from training due to a knee injury. In December 2018 we can see she is still kicking her goals, and is such an inspiration to all her fellow gym buddies!
What would Cassie say to others considering joining Feel Good Fitness?
"Take that step, and make the time to work on your better self, you wont regret it."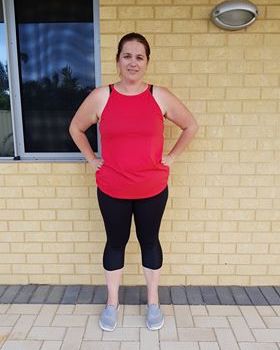 Feel Good Fitness
Get Started Today
How do I get started?
Feel Good Fitness WA is dedicated to offering beginners to fitness a place where they can feel supported and encouraged to meet their personal goals and improve their health and wellness. 
All you need to do is get in touch with us today to arrange an initial consultation to discuss your goals and how we can assist with any challenges you may be facing.
We look forward to welcoming you into our friendly community, and if you have any questions be sure to check out our FAQ page.
Benefits for Beginners to Fitness
Safe and supportive space
Improve fitness and mental heath
Learn correct exercise techniques
Have fun while kicking your goals!