Feel Good Fitness WA
BEGINNERS ONLY

FITNESS
Mandurah's First BEGINNERS ONLY Fitness Studio
Find out how our BEGINNERS FITNESS members have improved their fitness and their health, both physically and mentally
Book Your Trial Now
Book in NOW for a 30-minute consultation with head coach and manager Steve to get started on your trial.
Get daily health & fitness tips and inspiration for beginners to fitness along with support from all our Feel Good Fitness members.
Feel Good Fitness WA
Welcome To
Fitness for 
Beginners
We are Mandurah's First Beginners ONLY Fitness Studio, with various programs available to help you transform your life in a safe and supportive space.
With years of experience we can guide you through that first hard step of starting to exercise, in an environment with:
no mirrors
no intimidation
no judgement
Whether you want to lose body fat, improve mental health, meet new friends, or just feel stronger and more energetic, we have a program that will help get you where you want to go.
There is no age limit to health and fitness – we have members from 13 years up to 85 years old. With 60% of our members being aged 50 to 85, and 40% couples and families, you will be guaranteed to feel at home.
View our videos to see what our classes are like and what our members have to say, then get in touch to book your trial now.
Feel Good Fitness
Beginner Fitness Classes
Group Classes
Our Beginner Fitness group classes are friendly, supportive and fun.
Private Sessions
Our private beginner fitness sessions will target your specific needs.
Other Classes
Add some variety to spice up your routine with our beginners Boxercise classes. 
Steve and Hayley have developed a fitness model that is not just a gym but a fitness community with care and support of its members as the core of its operations.The trainers are excellent and they motivate, monitor and modify regression and progression of exercises to meet the fitness levels of every individual member. Members are friendly and supportive of each other and encourage each other to achieve their physical and mental health goals. Catering to a wide variety of ages and fitness levels, Feelgood Fitness is amazing.

julie tapping

I'd known for ages that I needed to make some lifestyle changes but the thought of venturing into a gym was too intimidating, so I continued to do nothing about it. Finding Feel Good Fitness has been a revelation! I am fitter and stronger physically and mentally. My life is easier and happier. The guidance and care from the trainers and the support of the other members, and of course the life-enhancing results, keep me coming back. Thank you Feel Good Fitness!

Sharon Ioppolo

They had me at "hello" haha great atmosphere, super friendly trainers, everyone is just so lovely, they get you focused on your goals and help you set in place a healthy mindset! 😊✌️✨

Amanda Kitchen

Awesome owner. Such a great guy.

Bert Laarman

I only joined this morning but the people I met were super friendly and helpful

Jennie Ashton

Clean tidy friendly and very helpful and not expensive.

Peter King

Owners caring, inspiring and uobeat! Excellent trainers; very supportive environment; fabulous workouts, with well-planned variety.

Max HILL

Absolutely love it. People/ staff are very welcoming and encourage you all the way.

Felicity Van Der Merwe
Client Referral Program
You can earn up to $50 each time you refer a friend or family member to Feel Good Fitness WA!
*Only for existing Feel Good Fitness members. $1600 given away so far! (Ts and Cs apply)
We are so excited after so many members have brought their friends and family down to experience our beginners exercise classes that we wanted to go the extra mile to show our appreciation to our wonderful members.
Building a safe, supportive and FUN community for beginners to fitness is our vision at Feel Good Fitness, Mandurah's first beginners only fitness specialists.
Customer Story
Success Stories
Feeling alone and depressed after leaving family and friends behind to move to WA, Cassie had no energy or motivation to do anything.
Now, after 14 months with Feel Good Fitness WA, Cassie says "I am feeling the best I have in over 15 years – 30 kg lighter and the smallest I have been since high school. My mind is a lot clearer, I'm stronger, I have so much more energy and now can feel proud about what I have achieved in myself."
In the photos we see Cassie in October 2017 after being with Feel Good Fitness for 3 months, and again in August 2018 having made great progress despite having to take 3 months away from training due to a knee injury. In December 2018 we can see she is still kicking her goals, and is such an inspiration to all her fellow gym buddies!
What would Cassie say to others considering joining Feel Good Fitness?
"Take that step, and make the time to work on your better self, you wont regret it."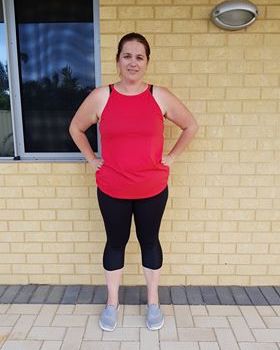 Feel Good Fitness
Get Started Today
How do I get started?
Feel Good Fitness WA is dedicated to offering beginners to fitness a place where they can feel supported and encouraged to meet their personal goals and improve their health and wellness. 
All you need to do is get in touch with us today to arrange an initial consultation to discuss your goals and how we can assist with any challenges you may be facing.
We look forward to welcoming you into our friendly community, and if you have any questions be sure to check out our FAQ page.
Benefits for Beginners to Fitness
Safe and supportive space
Improve fitness and mental heath
Learn correct exercise techniques
Have fun while kicking your goals!