What's on @ feel good fitness
Join in our upcoming challenges and special events
Feel Good Fitness
Upcoming Events
There's always something happening at Feel Good Fitness!
View our calendar of events to see what's coming up soon, with details of our latest challenges.
Join your gym buddies for some fun and improve your fitness at the same time!
Will you be our Feel Good Fitness Beginner of the Year 2019?
All members of Feel Good Fitness have the chance to become Beginner of the Year, winning $500 cash.
Each month during 2019 two members will be selected by their trainers to be Beginner of the Month. They will then automatically be in for the chance to win $500 at the end of the year when the Beginner of the Year will be announced on 31st December 2019!
Our monthly winners:
January – Bridget Annels, Carolyn Purcell
February – Diane van der Westhuizin, Abby Embling
March – Paul Hackney, Sheree Atherton
April – Karen & Marlene Haffenden (Five2One zone), Emma Muir (Fifteen2One)
May – Jemma McCann (Five2One), Jodi Bree Shaw (Fifteen2One)
June – Fran Ship (Five2One), Krista Drage (Fifteen2One)

July – Hannah Hancock (Teens), Linda Barns (Five2one), Barb Pearson (Community)

August – Aly Coxon (FIVE2ONE zone), Karen Hennessy (Community), Jack Boddington (Teen Fitness)
About Body Scans
Let's see what's happening on the inside to the outside
Visceral fat is located deep in the core abdominal area, surrounding and protecting the vital organs. Ensuring you have a healthy level of visceral fat directly reduces the risk of certain diseases such as heart disease, high blood pressure and may delay the onset of type 2 diabetes.
Feel Good Fitness Yoga
Now Available on Memberships!
Starting 19th October, every Saturday @8:30am, join Kaz as she sends you to a place of relaxation, while giving your body the stretch it needs after a long week!
Yoga does so much more than burn calories and tone muscles. It's a complete mind-body workout that combines strengthening and stretching poses with deep breathing and meditation as well as relaxation.
Feel Good with our Feel Good Yoga!
Limited spots – hurry to reserve your spot!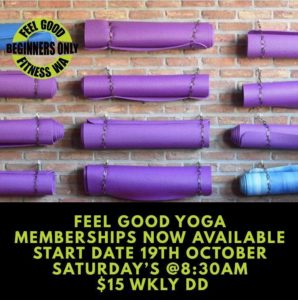 Quiz Night is on again!
It's Back !!!! Quiz Night has become even better with some new fun games and new rules!!
Saturday 26th October @7pm Halloween 👻 
Votes 🗳 for the best dressed 🎃
Winning Team will get their name on our Feel Good Quiz Masters Trophy 🏆
BYO event Food & Drinks
16 years plus event (no kiddies)
Click the link below to register your team 
$7.50 per person maximum of 8 people per team.
Get your buzzer hands ready & dress up in your most scariest outfit !
Feel Good Fitness Christmas Party
We invite all members to come together and celebrate our Christmas at The Greyhounds Mandurah!
Where: Mandurah Greyhounds 
When: Friday 6th December 6pm onwards
How much: $55 per Adult
What you get: ALL YOU CAN EAT XMAS BUFFET
Plus DJ to dance the night away and Santa 🎅 himself will be there … and spend the night with an awesome bunch of people!
Call: 9581 9378 to book and pay for your seats on the Feel Good Fitness Table
*YOU MUST BOOK TO RESERVE YOUR SPOT ON OUR TABLE – Cut off for bookings is 15th November 2019.
THERE ARE CURRENTLY 50 PLACES ON OUR TABLE – partners and friends are more than welcome.